What is flexo printing? The printing technique explained
Flexographic printing has grown to the most used print technology in the label printing industry today, providing an optimal combination in quality, productivity, and flexibility. But what is flexo printing and how does it work?
A short introduction
Flexo printing isn't what you would call a new technology, but it has evolved considerably with numerous innovations. These developments make it still one of the most reliable ways to produce large orders of high-quality custom labels at rapid speeds.
Flexographic printing is a technique that uses a flexible printing plate. In the past, these printing plates were made of rubber, and nowadays businesses use flexible photopolymer printing plates. The plates are wrapped around cylinders on a web press. The inked plates have a raised image and rotate at high speeds to transfer the ink through small holes from the anilox roll to the substrate; each color requires a different printing plate. Due to developments of anilox rolls, printing plates, inks, and the printing press amongst others, you can print images with high line count in flexo.
The name itself, which is based on the Latin word flexibilis, that is, "flexible", directly indicates the characteristic features of flexoprinting.
Flexo printing, flexographic printing, flexography - these synonyms denote a method of printing using elastic printing plates.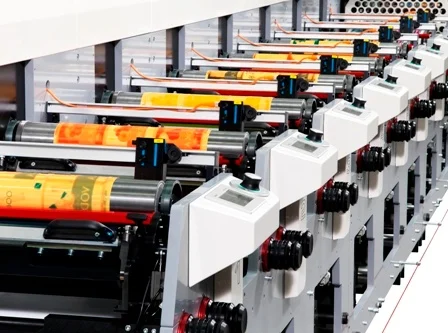 Flexo printing: technology features
Schematically, the flexo printing process is as follows. The ink is applied to the anilox roller, which supplies the required amount of ink. The ink is transferred from the anilox roller to the flexible printing plate. Roll material is fed between the form and the impression cylinder, on which a high-quality impression is obtained.
Flexo printing is carried out with quick-drying inks:
1)water based,
2)solvent based;
3)UV paint and varnish.
Modern packaging and label printing machines offer high performance, crisp printing, advanced control system, easy material loading and cleaning system, as well as other functional features.
Combining printing and finishing modules in one technological cycle makes it possible to rationally use their advantages, to produce a variety of high-quality products with a large number of printing special effects, to increase production efficiency and the speed of order fulfillment.
Benefits of flexo printing
The advantages of technology include:
1) wide range of materials;
2) profitability;
3) the use of food-safe paints;
4) the use of additional sections for the organization of full cycle work (lamination, embossing);
5) effective sealing of materials.
Flexo printing in the production of packaging, labels and stickers
The flexographic printing product can be self-adhesive labels, stickers and stickers, thermal tickets, packaging, including flexible packaging.
HYF's PVC shrink film & PETG shrink film can be used in flexo printing,too. Any inquiry, welcome to contact us for
furtherinformation by email: info@plafilms.com